Thursday, March 21, 2013
The Death Of The Top Dog
HIS MASTERS ADMINISTRATION : The Death Of HMV as seen from the outside
"First HMV and Blockbuster came for the independent record stores, and nobody minded, and then the administrators came for HMV and Blockbuster... and nobody cared anymore."
As the shutters close on my local HMV on Friday, two months after the long ailing beast entered the slow, corporate death that is "administration", the world faces an altogether more uncertain future. There is now not one national music retail company in the world's 6th biggest economy. Not one national music chain in the country that gave the world Pink Floyd, The Beatles, The Rolling Stones, The Who,Steps, and … Ben Howard. But all false modesty aside, it is a national disgrace that HMV – a chain for whose flagship store was opened in 1921 by Edward Elgar – have gone into administration. HMV have been run into the ground by myopic arrogance, fuckwitted businessmen who don't understand the market, and a King Canute approach to the tide that no company can defeat.
Someone To Blame
The ignorant will claim that this is the fault of downloading. Step forward the archaic luddites of Peter Hook, et al. Yes, downloading and pirating may have affected record sales. Home taping is killing music. But what else has caused the death of the traditional retail outlets?
It's certainly not the fact that the price of gig tickets has outstripped inflation by a factor of at least twice as much.
It's certainly not the fact you can buy it all cheaper – or get it for free – online.
It's certainly not the most abusive and broken economy that has removed any such vulgar frippery as discretionary spending.
It's certainly not a dunderheaded pricing strategy. Its certainly not a wilful waste of a brand or a, at best, undereffective MP3 store.
It's certainly not the fact that restrictive and contemptuous packaging policies has deterred consumers from buying product – such as Suede record Bloodsports, where in order to own every song on the album you had to buy it at least three times (the iTunes version, the Japanese CD/DVD, and the Superdeluxe 7"+12"+CD+book+USB stick box set at £100), or the fact that DVD releases of films are often mercilessly and pointlessly stripped of extras, bonus features, and content in order to plug the Blu-Ray release.
In cases like this, people I know, just wait and buy a copy second hand a few months down the line – if at all - because there's no shortage of stuff in the world, and if they want to own Skyfall, it'll still be around, much cheaper, in the future. The idea of buying stuff the day it comes out is so archaic. I don't know anyone with enough money or enough insanity to buy every variant of the latest Smashing Pumpkins woodblock carved 7" EP. If you do, seek medical help.
People like paying for entertainment, but not when they are treated with such obvious loathing and exploitation.
But fear not. HMV always survived all the other upstarts : the death of the LP, the cassette, the rise of the Internet in 1996. HMV survived all these things. It'll survive the Internet in 2012! It will! It survived everything else. This presents no significant problem. It will even survive bankruptcy like some kind of zombie chain of retail invicinbili-
oh.
High Street Graveyard
We are always wiser after the event, but as I type this, my town – home to 100,000 people – now faces a future where the only place you can buy music is either in one aisle of a supermarket, or from your laptop. This is the endgame from Britain. And whilst I have long been discussing it, in fevered blogposts and telephone conversations, HMV has long been the doomed, ailing man of the British Music Industry, and one that royally, and wilfully, destroyed its own brand through dogged stupidity and single minded ignorance.
And, lets face it, in 2003 HMV had a strong brand. Sure, the high streets were filled with other music stores – Virgin, Tower, Our Price – and iTunes was barely a dream in Steve Jobs unstoppable mind. Now, ten years later, all those stores have fallen. Every one of them, with HMV merely the last to fall. And it was all so very avoidable.
Where did it all go wrong?
In short, HMV was arrogant. It decided not to fight the competition, and instead of defeating the supermarkets with all guns blazing, shot itself in the foot with both barrels.
Ask the staff. One of them said to me last week that HMV was sunk by ignorance. Arrogance, and wilful stupidity. And he's right.
After this article and this blog post, I am not surprised. I was sure in 2003, that HMV and others, were either holding back some powerful weapon, or clueless morons. As each one hit the wall, it became clear it was the latter. Even in 1999, when half the world had never heard of the internet and "speed" was not a fatpipe, but a 64kbps dialup connection, I was advocating a new and revolutionary method of selling music, where for 50p per song, anyone anywhere could download and own any song ever recorded by anyone at anytime. Sadly, without a startup behind me, or any balls, this became someone else's idea. No regrets, but it was bloody obvious at the time.
HMV, meanwhile, thought people had some kind of sentimental attachment to the CD and the DVD. People don't care whether it's a spinning disc or a hard drive platter. I don't care whether my music was originally recorded on a wax disc or a Maxell C-90. As long as it sounds good and I enjoy it, is my primary concern. If I have paid for it – HMV's other blind spot – is a matter for my conscience. If I don't pay for it then I have to accept that the artists producing it may very well cease producing more. That is my risk. And, when a ticket to see Thom Yorke's solo-band's first UK shows cost a whopping £49.50 – in the midst of the most vicious and long-lasting recession in 85 years – sometimes there is simply not enough money left in the economy for discretionary spending of the magnitude of £38 for a 2CD / 2DVD Pogues live box set (as spotted in a closing branch of HMV this afternoon) to keep afloat an old-fashioned bricks-and-mortar retail outlet. Especially one that charges so much money.
People have to buy an evening meal almost every night. You don't have to buy the Rhianna album everytime you want to listen to it – yet. That's the next insidious trick the market will go for : where you pay but never own anything, and merely rent the music you love.
If HMV sells 2,100,000 copies of Adele's "21" at £10, there are no guarantees that you can sell 4,200,000 at £5. Every record, be it The Saturdays, or The Sundays, has a finite number of sales in it.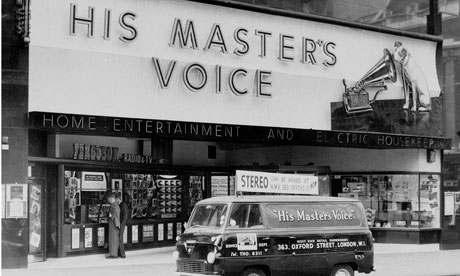 "Mercifully Free Of The Ravages Of Intelligence."
Does HMV really think it needs to stock 50 copies of the Lady Gaga album two years after it came out in case there's a sudden run on it? It may have sold 50,000 in the first week, but it won't sell 50,000 in the thirty first week.
Sometimes the market is saturated.
HMV had five stores in Glasgow two months ago. FIVE. (Population 600,000, by the way). AT that rate of attrition, HMV should have had 700 stores in the UK, not 238. And, when HMV Sandford* (*names changed) bought Zavvi and Woolworths went under, the targets were set to reflect a pre-recession economy and scaled up to a level which simply could not be achieved. There weren't enough potential sales. The idea was that with three stores turning into one, sales for the other two must have been same.. so TRIPLE the TARGETS!
There was a reason the other two shops went bankrupt. The reason Musiczone bought the ailing MVC, and turned from a company turning a profit to a company with 100 loss-making stores dragging into a watery grave. The economy does not exist in Waynes World where the reality is : "Build it, and they will come." This is not Retail Field Of Dreams.
Music is not a scalable product in the same way as food. If you can sell a pizza for £3, you can lower the price point and you can sell more pizza. However, with an album, once you've made that sale, people continue reusing that product. The point of selling 5000 albums at £10 does not mean that if you halve the price, you can automatically sell twice as many. Its not a product that is use just once then destroy. That's then 5000 sales you won't make again – irrespective of the number of deluxe editions and bonus tracks the many alternate versions come with. So, HMV end up with vast quantities of unsaleable product. Sure, you can agitate sales with reissues, remasters, deluxe editions, but at the end of the day, there's a finite limit to the number of copies any album – even Def Leppards "Hysteria" - can sell.
As recently as 2005, HMV thought the way to make money was to charge more online than in the store, thinking that it could – for the convenience of sending you a parcel through the post that wouldn't fit through your letterbox and needed to be picked up from a sorting office queue on a Saturday morning – cost more than casually leaving the house, going to a store miles away, picking out and taking an item to a till, then putting it in a bag, going home, and listening to it.
Head-In-The-Sand
As recently as 2012, HMV thought it could charge £16.99 in person for something that had been sat on the shelf for years when Amazon's new and used was selling it for £1.99 + £1.26 postage. Even my Dad is on the Internet. Why wasn't HMV aware? Why did HMV have its Head-In-The-Sand, screaming LaLa hoping the Internet would just …. go away.
In the meantime, competition walked through the open door HMV's complacency left swinging open. Play, Amazon, Zavvi, the Hut, et al all opened, and provided the customer with what they wanted : affordable convenience. The competition, Play etc., were all waiting for HMV to decimate them by opening fire with the Big Guns. And HMV not only didn't fire them, if half-assedly saw the monster eating them alive as a mere flea, so pointed the guns down and never fired them.
Too big to fail? Too big to survive.
Throw The Brand Away
HMV had a powerful brand. And it threw it against the wall. Thinking most people still, in this day and age, ignore Spotify, iTunes, YouTube, Pirate Bay, and instead, still take the convoluted option of :
1. Go out of house
2. Drive / walk / abseil to store
3. Scour shelves. Find thing. If you can find the thing hiding among 500 copies of the Jay-Z CD.
4. Walk to till, queue, pay.
5. Drive / walk / huskyride home
6. Insert into CD player / rip to iTunes
7. add to MP3 player

Where did HMV go wrong? Everywhere.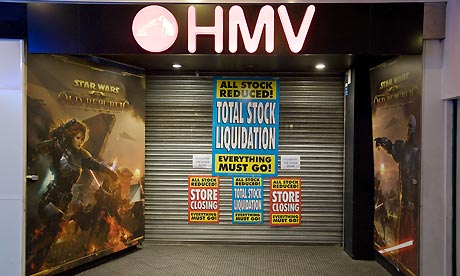 In 1999, HMV, meanwhile, had an ideal platform to take the most well known music retail brand in the universe, and use it to transform music. They spunked it against the wall and let iTunes steal the open goal. Well done, Steve Knott. Your lack of action destroyed HMV and doomed it to a long, slow, lingering death by wilfully ignoring the biggest change in the world of retail since the invention of the shop.
Where did HMV go wrong? In short, a million places at once.
1. The Internet. HMV saw the Internet as a place to sell CD's online, and at absurd prices. The online sales price for a CD at HMV.com was often far above the bricks-and-mortar shops in the early years. For some reason no one could fathom, HMV thought you could change more to have to collect a CD sized parcel from a Royal Mail Sorting office than it could for you to browse through racks on a Saturday afternoon. Even on this basic point, HMV completely and utterly fucked up. With online retail, you don't have to pay for as many staff, you don't have to pay ground rents for stores, you don't have to carry dead shelf stock, you don't have to do anything but fill a warehouse with stuff and pack it into a jiffy bag and pop it in the post for 50p a go. Sometimes, you don't even have to pay tax if you go offshore. Easy fucking peasy.
2. MP3 Sales. HMV's online MP3 sales function was so dunderheadedly stupid it would fall into a barrel of tits and come out sucking its own thumb, to quote a bad old comedy film. HMV went wrong in a number of areas here, but in short :
a)1 Click Purchase. Easy. Buying MP3's should be as easy as opening a webpage. Why not a page hmv.com/pinkfloyd that dynamically offered you everything easily and affordably? Let's put aside artist considerations for a while (AC/DC didn't join the Internet until 2011, but iTunes did fine without them) ; some were absolutely 100% embracing the internet as early as 2002. End of debate.
b)Search function. The MP3 purchase page should always be laid out for maximum convenience and with oodles of common sense. When you search for "Suede", it should not bring up "Blue Suede Shoes". The search function should also clearly highlight HMV-exclusive material. What you cannot get anywhere else. Not the same stuff that everyone else can buy packaged in more expensive and complicated bundles. Click, buy, done.
c)Dynamic recommendations. Amazon really have some very intelligent algorithims behind this. In short "Bought this? You'll LOVE this." And one populated by people that know what they are talking about. The world is full of people that know this. Some of them are unemployed. Use them. Employ product specialists that understand the market.
More importantly, HMV should have been all over broadband MP3 sales ten years ago, selling stuff at 50p a go, and decimated iTunes before it was even born.
3. The Supermarket. HMV became an expensive, poorly stocked supermarket, with shelves stacked by robots. Music, despite what people tell you isn't the same as baked beans or bananas. Music is art. People buy music to listen to it, dance to it, fall in love to it. They treat music as a luxury purchase : not something they need to buy, like bread, or milk. HMV fell out of love with music, and became a device to shift product and not only that, became a blatant Music Supermarket. And frankly, if people want to treat music that way, they will have no loyalty where they buy it from. And lo and behold, why drive to a separate store to be sold music by someone who really doesn't give a shit about it and pay more, when you can do by walking one aisle along in SuperMegaTescos? Especially when CD's were given away free with newspapers.
If you walked into a supermarket, what did you experience? Rows of the same items, all arranged carefully to maximise sales, competitively priced with maximum ease of access and designed to shift. This is fine for Bananas. Or Nappies. It is not the way to sell CD's if you want to have a sustainable business model. HMV treated music, CD's and DVD's with contempt. As if all it had to do was open its doors, and customers would come flocking in. In the midst of a recession the first spending to dip is entertainment. Especially when it's free on the Pirate Bay. It's not as if Paul McCartney needs any more millions anyway. Thumbs Aloft is loaded. This arrogance, coupled with an insane restocking policy, saw HMV commit cash where it had no resources to commit :
4. Restocking
Like Tower, HMV had a bizarre restocking policy. If the Bodget & Scarper album had sold 1 copy of their Japanese import EP at £25, then it would order another 1. Even though Bodget & Scarper may only have 1 fan – leaving HMV with cash invested in an unsold album. And thus, the industry price for that item remained outside of the HMV coffers. (It was only relatively recently, when HMV clearly was in financial difficulties, that it started to explore Sale-Or-Return deals with labels). Repeat that 10,000 times : ask yourself how many copies of the Kings Of Leon album sit on HMV shelves right now waiting to be bought?
On a smaller scale, with an active catalogue in the 10's of thousands, each unsold title was a weight around HMV's neck : and endless moronic restocking of something as soon as it sold was not a 'lost sale', when it hung on the shelf for years on end. Many times, I remember seeing dogeared stock that had obviously been there for years in battered plastic shrinkwrap and old-format pricing stickers : after 2 years, I stopped looking at the dogeared version of Pop Will Eat Itself's "Dos Dedos Mis Amigos" imported from Japan at £28.99. Even if that copy had sold, the HMV order would have been for another copy the next week. Another two years of paid-for stock, tying up HMV money with no return, sitting on a shelf costing money. For tens of thousands of titles, in hundreds of stores, across the UK.
5. Ground Rent HMV used 1999 as a way of raising capital by doing a sale-and-leaseback of its stores rather than borrowing it, they did by selling off their stores under a lease back, ie  Buy to Rent. Like selling you house to "unlock equity" and then renting it.  In effect, in corporate terms, the "We-buy-your-mortgage-and-you-rent-off-us" loanshark bullshit.
With that, they then no longer owned a great number of their own stores, and were locked into rent increases. This is why they can't make the rent in a lot of stores - because of high rents caused by selling them off. if they hadn't sold them off, HMV would have not been crippled by it.
I could go on, and on and on. The list is endless.HMV was arrogant, incompetent, destroyed its own brand through inaction, and willingly gave away its whip hand in the market by failing to act against the competition which it thought would magically just … go away.
Where HMV ultimately went wrong, and this was its key failure, was both culturally and commercially. Music is art, and a society which does not sell culture on the high street is poorer for it. HMV could – and should have – sold itself as a gateway to the imagination, instead of merely a bunch of shelves selling expensive white slabs of plastic technology and MP3's-in-a-box. HMV sold itself on stack-it-high / sell-it-expensive bullshit, where it clearly didn't care what it sold, as long as it sold as much of it as it could. And here is where it failed. HMV stores had no class. No personality. No style. Just another dull, boring, corporately branded store.
The personality – if it had one – of a Rolling Stones indebted retiree fighting with a teenager with not very much money for control. HMV was bland, boring, shelves with no personality, diversified into basic and tedious stock, sold unimaginatively at insane prices, with staff who (in the main) couldn't've cared less if they were selling music or cakes. Knowledgable staff had to hide their personality and knowledge – one who I had a fascinating discussion about the marketing of "Kid A" last week for example and the other who could discuss to tedious detail the different pressings of Kraftwerk vinyl between Germany and the UK in the 70's – and reduced them to just people in purple shirts selling boxes of product. Radio friendly unit shifters.
HMV also made itself a laughing stock by suggesting that staff had to cover their tattoos. This is rock, the very market of tattoos. You might as well suggest that pubs be run by teetotallers. A third of the UK has tattoos. If HMV were so desperate for customers it would try to make its staff pretend they don't have tattoos, it should have had a half decent online MP3 store half a decade ago.
The average high street customer is smarter, and wiser with their money, than HMV. HMV's base retail price for the X-Men Trilogy Blu Ray Box Set was.... £42.99. The base retail price for The Pogues Live 2CD+2DVD Set was … £39.99 . Who would pay their prices? It's Our Price, Not Your Price, and Fuck Off If You Don't Like It.
Whatever happened to Our Price, anyway?
What does it mean?
But what does it mean for the High Street? In 1997, U2 launched their album, somewhat ironically, in a supermarket. Nowadays, Bono and Co descending from the ceiling of a Big Box supermarket the size of a football pitch is probably the best way to launch a record. Guns N Roses sold the long-awaited Chinese Democracy exclusively through Best Buy for six months before any other store had it.
What it means is, in the town where I live – population 100,000 – there is not one store that just sells entertainment brand new. CEX thrives, and sells other peoples cast offs. Since 2005, one local record shop, and Virgin, Zavvi, and now HMV, have all bitten the dust in the past seven years. The only place you can now buy music brand new from the back shelf of Asda and Sainsburys.
Of course, irrespective of the crowing by some at the death of yet another High Street Store, HMV's absence is a serious and worrying move.The week HMV went into administration, Blockbuster and Jessops also died. That's 15,000 retail jobs in one week. That is the equivalent of an entire fucking town the size of Royston being made suddenly unemployed. That is a big deal. The physical retail market is in dire straits. The economy is being destroyed by the economically illiterate dogma of politicians and vulture capitalists.
And to be frank, with HMV gone, what next for the physical media? CD's, DVD's will become niche products. By removing the main artery for sales to the general public, the general public will start to buy music only from the Supermarkets, and that means that if you don't get shelf space at Asda, your record is over. The opportunity for people to ask the (ignorant) staff about the song playing is over. The chance HMV had to promote culture – one it woefully wasted in favour of shifting boxes of Adele's "21" - was wasted. There was nothing HMV sold you couldn't get cheaper and easier from your laptop or on your local grocery shopping run.
Well done, HMV. You committed a slow, and moronic corporate suicide and weren't even smart enough to admit it. The story of HMV is a litany of endless wasted chances and blown opportunities, all of whom can be laid firmly at the feet of ignorant and stupid management who let their arrogance think they could somehow take on reality by pretending it didn't exist - and win. The Godzilla that killed you was the mouse that roared. It's called progress. And frankly, I'm surprised it took as long for you to commit suicide as you did.
Welcome to the future. It is no place for a dinosaur.
Comments:
I worked for them in 1996/7, and even then it was clear they thought they were immortal. I stopped shopping there years ago, and I can't bring myself to shed a tear now. Idiots. I do however mourn that we consumers allowed these fuckers (and the supermarkets) to kill our independent record shops. I like to have a physical copy of the music I buy, but I'm increasingly being driven online. It's a shame, although more optimistically, artists like Martin Rossiter and his crowd-sourcing for funds to make his most recent album, shows us how it could be done. HMV? It's a shame, but as you say, they committed suicide and the is has been a long time coming.
I worked for a music retailer from February 2002 to March 2003. In January 2003, they filed for bankruptcy protection, for the second time in their then 33-year history. They claimed they would keep some stores open, but pretty much shut them all down before they got bought by another company (who shut them down).
All purchasing decisions were made at Corporate in California. Because my store was in an affluent neighborhood, we were considered to be a "Rock & Pop" store. Thing is, the CD buying population around us wanted Hip Hop & Rap. When the new Celine Dion CD came out, they shipped us 60+ copies. We sold 2. When the new Eminem CD came out, they shipped us 2, and we had to refer the 60+ people who wanted it to the "urban" store 5 miles down the road.
Some people claimed that illegal downloading hurt their business. I was able to look back at their day-to-day sales history for the previous years, and saw that, to a certain extent, it had. But that's not what killed them. Poor leadership at Corporate is what did it. Each location used to have their own Buyer. To "save money" they got rid of them and centralized it.
I was very happy when I left them, but was sorry to see yet another music retailer close (Tower & Virgin had already moved on). It was funny, when I gave my one week notice to my regional manager, he said that he was going to offer me the store manager position the next day. I told him no thanks, being store manager of a store that's closing wasn't something I wanted on my resume. Then he saw I was only giving one week notice, and said that, because I wasn't giving 2 weeks notice, I wasn't rehireable. I replied, "You're going bankrupt and are shutting down, I think I'll take my chance." He was clueless.
Post a Comment
Links to this post:
<< Home